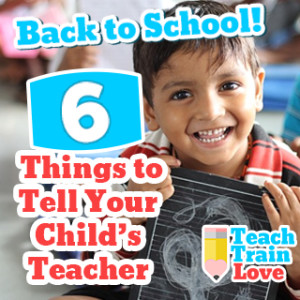 The start of school is just around the corner, and I'm sure you've heard that the parent-teacher relationship should work like a partnership.  Nobody knows your child better than you do.  Ongoing, respectful communication throughout the year provides the teacher with key insight when making social, emotional, and even instructional choices.   So, what type of information should be communicated right from the get-go?
1.  Health & Wellness:  This seems like a no-brainer, right? Of course you know you need to tell your child's teacher about medical conditions, and this should happen A.S.A.P.  Back-to-School night, however,  is not the best time to share information such as this, because your child's teacher will be juggling 20 or so new faces and families.  The best bet would be to email/call the teacher during in-service week or even ask to set up a quick meeting before school starts depending on the severity of the issue.  Also, give the teacher a heads up about any issues that may not be diagnosed yet, but should be kept on the radar (such as ADHD or a speech delay).
2.  Transportation Plan:  Many early elementary teachers will tell you that the biggest stress of the first day of school is simply ensuring that each child makes it home the right way.  Most schools have excellent systems in place, but make sure to communicate this clearly on any/all forms in neat handwriting.  It is best to relay this before the first day of school craziness ensues as well.
3.  Family Matters:  Upon first meeting your child's teacher, you may not feel comfortable divulging sensitive family information.  Perfectly understandable.  However, informing the teacher of notable issues/changes within the home life is very helpful (no knitty gritty details required).  Recent/impending divorces, custody arrangements, moves, and deaths in the family are a few examples of things you should not wait too long to share.  Any significant life event that your child may still be sensitive about should be mentioned also.  Chances are, these things will make their way to the surface anyway.  Your input will bring clarity and help the teacher be sensitive to your child's needs.
4.  Glows & Grows:  From the moment your child steps foot in the door, the teacher will begin gauging areas of strength to build upon.  Likewise, the areas in which your child can improve will be evident also.  Share the areas your child 'glows' or needs to 'grow' from your perspective as a parent.  You may find the teacher's input about these two things to be surprising, and that's okay.  Children behave very differently depending on the triggers in their environment.  Effective communication can bring clarity to you and/or the teacher.
5.  Interests:  The best teachers learn their students' interests and tap into this knowledge to increase motivation and enhance instruction.  Early on, your child's teacher will probably be implementing a variety of activities that reveal student interests. However, it never hurts to give the teacher a little head start with this from day one.  This is a wonderful thing to discuss during Back-to-School night.  It can also help your child open up and feel comfortable in their new setting.
6.  Positive Feedback:  Don't hesitate to tell the teacher if your child is enthusiastic about school after the first day, week, or month.  Let's face it.  It's not money that drives teachers.  It's the success of the students and all the little things that make the profession great.  Plus, making positive initial contact will make it easier to speak with the teacher about concerns at a later time.
So, what kinds of things have you previously communicated to your child's teacher that put them on the path to success???  Do you think there's anything I missed?  
I'd love to hear from you!
Thanks and enjoy back-to-school time with your kiddos!  🙂