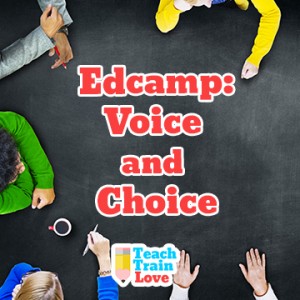 Have you ever participated in an Edcamp? I got the chance to serve as a facilitator in a few this past summer and it didn't take long for me to realize what an incredibly valuable PD model Edcamps are for educators. If you like personalized learning experiences and engaging in authentic dialogue with other teachers, keep on readin'! I'm betting that you'd love this unique form of professional learning.
What is an Edcamp?
Edcamps emerged as a professional development opportunity for K-12 teachers about five years ago. The Edcamp model is often referred to as an "unconference". Edcamps are agenda-less. Participants generate topics of interest on sticky tabs upon arrival. Those sticky tabs are organized into thematic discussion topics. Participants then get to decide which discussions they'd like to attend. There are no official instructors imparting knowledge. Rather, learning occurs organically through shared dialogue encouraged by table facilitators. The take-aways are the ideas and resources that emerge throughout these natural, teacher-driven discussions.

Why Edcamp?
 They're typically free or inexpensive.
 Teachers create the agenda!
 There's no 'sit and get'.  Rather, teachers bring the expertise.
 It democratizes the voice of teacher learners.
 The model encourages rich, collaborative dialogue.
 Edcamps are flexible and allow you to 'vote with your feet'. If you aren't  interested in a conversation, simply walk to another.
 Teachers leave with practice tips and ideas for immediate classroom application.
Where, When, and How?
Here is an Edcamp Calendar featuring many of the larger scale events. However, the Edcamp model is rapidly spreading so keep an ear out! Also, anyone can run an Edcamp! Check out Simple K12's EdCamp Guide for details about how to bring one to your local area.
If you've been to an Edcamp before, what you'd you think? Please share in the comments section below.
Also, a quick thanks to Shelley, our PL team's Edcamp guru, for showing me the Edcamp ropes.