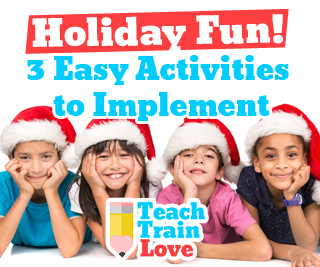 It's the most wonderful time of the year, right?  Well…hopefully!  Capturing (and holding) the attention of young learners prior to the holidays can be challenging, so it's important to create some extra special learning opportunities to keep them focused.  Here are 3 easy-to-manage activities I like to do in my classroom!
1)  Holidays Around the World:  Every December, our first grade team conducts special 'Holidays Around the World' lessons.  Each teacher on the grade level selects a foreign country and is in charge of teaching about that country's unique holiday traditions.  We rotate the children through each other's classrooms, carrying self-made passports and suitcases for their materials (made out of cereal boxes).  In each class, students sing songs, play games, learn dances, and walk away with some kind of 'make and take' activity as a remembrance of the country.  It is a 'world' of fun!  It definitely takes some preparation, but once the lesson is mapped out, you can rinse, recycle and repeat it for each class.  It's interesting to see what the other teacher's classes are like.  Trading stories afterward is always fun to do, too. 😉
2)  Holiday Book Swap:  Reading is a gift!  I like to designate a day in December for children to bring in 1-2 gently used books for trade.  Once I've collected and tallied the number of books each child brings in, I slap a bow on them, and display the books for the majority of the day so students can browse.  Be sure to have a couple extra books on reserve just in case a student is unable to bring one in or forgets.  Once students have a good feel for what is available, I randomly pull names from my popsicle sticks jar and conduct two rounds (this way no student gets stuck with the last two picks).  This is a great way to generate excitement about reading while replenishing students' at-home collections.  It's extremely simple to manage also.  🙂  And in December, let's face it, we need simple!
 3)  Holiday Traditions Show 'N Tell:  To promote a strong sense of community, celebrate diversity, and teach the term 'traditions' in a meaningful way, I have students bring in one item that will help them describe a family tradition.  Students love sharing and learning about each other!  It gives me great insight into the students' lives as well.
What kinds of activities do you like to do to celebrate the holidays???  Please share in the comments section below!   🙂  Thanks!