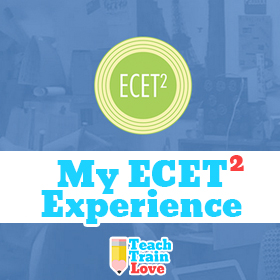 Have you ever heard of a fellow teacher attending an 'Elevating and Celebrating Effective Teaching and Teachers' (ECET2) Conference?
I had the incredible opportunity to go to the 2015 ECET2 National Conference in Seattle this past July, where I got to collaborate and learn alongside 450 passionate teacher leaders across the country.  It was an all-expenses paid trip sponsored by the Bill & Melinda Gates Foundation, and I was selected via recommendation from the National Network of State Teachers of the Year (NNSTOY).  Several other educational networks and organizations were represented at this event, and needless to say, I was PUMPED when the invitation magically appeared in my mailbox!
ECET2 is part of the Teacher2Teacher family.  The goal of ECET2 is to connect passionate educators nationwide to tackle common challenges.  It is designed and facilitated by teachers for teachers.  The vibe of the conference centers on the key notion that nobody knows teaching like teachers.  A novel concept…so simple, yet so powerful.
We spent three days actively involved in teacher leadership workshops, dialogue-driven colleague circles, and inspirational Ted(ish) type talks that pulled at every one of our heartstrings.
Here are a few of the keynotes…
If the opportunity ever arises to attend a regional or national ECET2 Conference, pounce on it! You will meet people who wow you with their expertise.  You'll  leave motivated, energized, and rejuvenated.  You'll be reminded that our work matters.  And, of course, your Twitter PLN will grow by the hundreds.
Here are some pictures and a video highlighting our experience.  You can spot me dancing on a chair for a second or two at the close of the video, which, surprisingly, is pretty commonplace at ECET2!