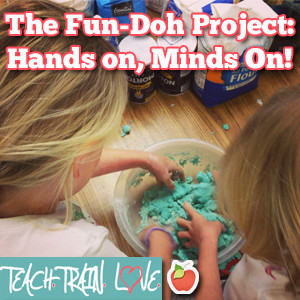 As educators, we must provide authentic learning opportunities for our students.  Real-world application leads to deeper understanding of both knowledge and skills.  It taps into children's natural curiosities about the world and increases motivation as well.  After reading my blog buddy's post Authentic Learning:  The Shoe Store, I was inspired to facilitate a project-based learning experience at our school.  Via close collaboration with my fantastic first grade team, the First Grade Fun-Doh Fundraiser project was born!  How's that for alliteration?  😉  We integrated reading, writing, science, social studies, and math concepts into this project, as students made and sold fun-doh to benefit our local children's hospital.  This thing was a total hit!  It not only promoted integrative learning AND community outreach, but it created an undeniable buzz of excitement throughout the school building as well.  Here's what we did…
STEP 1:  Gathering Materials
Two weeks prior to starting the project, we sent a newsletter home to parents informing them of this unique learning experience.  We called for donations, asking parents to send in 5 lb. bags of flour, 26 oz. containers of salt, 48 oz. containers of vegetable oil , and food coloring.  We brought in measuring cups, bowls, mixing spoons, etc. from home.  Sandwich-sized plastic bags were needed as well.  The exact amount of materials required will depend on your class size of course, along with the number of batches you'd like to make.
Step 2:  Instructional Scaffolding
This project touched upon key economic topics, such as goods and services, producers and consumers, spending and saving, supply and demand, etc.  We watched a few supportive Discovery Education videos, participated in ActivInspire flipchart sorts, and discussed these topics during whole-class read alouds.  Nancy Loewen's books Spend, Save, or Donate and Lemons and Lemonade tied in especially well to the theme.
We also learned/reviewed persuasive writing, steps in a process, phases of matter, counting money, graphing data, and measuring prior to project implementation.  It was amazing to see the kids draw connections and build confidence as they practically applied former topics of study.  I witnessed so many 'a-ha' moments.  For instance, one child said, "Ohhh I get it, so I am a producer because I made it, but my brother (in fifth grade) is the consumer because he bought it from me."  You got it, dude!
Step 3:  Advertising Plan

Students were told that they were going to make and sell fun-doh to raise money for the Children's Hospital of the King's Daughters (CHKD).  The CHKD Buddy Brigade of 'pet therapists' visited us weeks prior, so the children already had a connection to the organization.  The rest of the process, however, was student-driven.  Once presented with the task, the kids strategically brainstormed ways to inform our school population.  They decided to make posters, and collaboratively worked together to include the important who, what, when, where, why, and how information.  Each group added persuasive slogans to their posters as well.  We toured the building as a class, placing them in high traffic areas.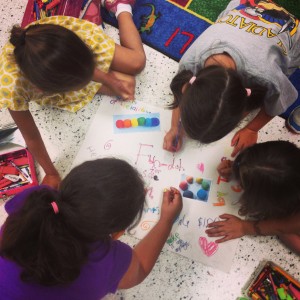 The kids also decided to advertise on the morning announcements.  We paired representatives from each class to do this.  They shared the 'need-to-knows' along with this catchy, little jingle.
Pat-a-cake, pat-a-cake, baker's man.
Bake me some fun-doh as fast as you can;
Pat it, roll it, and stuff a prize inside.
It's only $1 for all you girls and guys!
It was so cute and stirred up LOTS of excitement. Mission accomplished!
Step 4:  The Creation

This recipe makes a single batch of fun-doh (two balls per student):
For practical purposes, we doubled the recipe, mixing the ingredients into one big bowl for a pair of students to share.  Less wait time for the kids + less dishes to wash = happy teacher.  🙂  Don't forget, during this process, try to embed as much content vocabulary as possible.  Example: Please pass me the 'liquid' food coloring.
Directions:
First, mix the flour, salt, and oil into the bowl.  Then, add food coloring to the water before pouring it in.  Next, stir it until it becomes sticky, combined dough.  Then, knead it continuously until it becomes the right texture, adding a touch of flour here or there as necessary.  Annnnd voila!  You have fun-doh.  Roll it into a ball shape (we also put a bead inside for our school's 'brag tags'), and then place it into a plastic bag for refrigeration until the sale date.  Try to sell it within a day or two.
Step 5:  Fun-doh for Sale
On designated days, we sent parent/student volunteers down to the common area to sell the fun-doh before the morning announcements.  Students got to practice counting money and providing change with adult supervision.  We graphed the amount of money collected each day in class.  The fun-doh was such a hot commodity that we sold out within minutes each day.  We better double up those ingredients next year!  🙂
Step 6:  Donating the Proceeds
After expenses, we made $221.28 for our local children's hospital!  A check, along with the below picture featuring our administrators and representatives from each class was proudly sent over to our friends at CHKD.  Way to go students, teachers, administrators, parents, and staff for supporting the cause!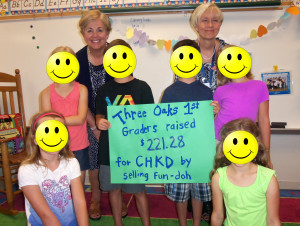 If you have any comments/questions, I'd love to hear them!  Also, please feel free to share the types of authentic learning you are doing in your classroom.  😉  Lastly, I'll leave you guys with this quote from good ol' Ben.