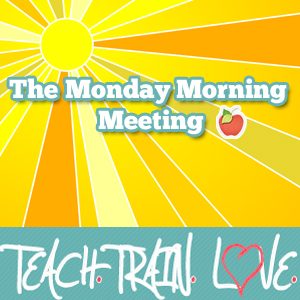 As much as I love my job, I treasure my relaxing weekends, too!  Sometimes Monday mornings come all too fast.  There is always one thing about Monday mornings that awakens my spirits even better than a Starbucks chai tea latte.  That is, the Monday morning meeting!
The Monday morning meeting is a special time that brings our classroom together as a community. During this time, I gather my students in a circle around the edge of our carpet for a little pow-wow.  We pass around a special object (such as a Koosh ball, a stuffed animal, or a maraca), and children know that they must wait their turn to speak until the special object is in their hands.
Each child is given the opportunity to share a weekend event, news, or can ask for teacher/peer advice for dealing with a problem of some kind (omitting student names of course).  It is also a perfect time for children to share special recently obtained mementos (such as a soccer trophy or a souvenir from a family trip).  Children may also share pictures, which we promptly post on our classroom's 'Family Wall'.
Think you're schedule is too packed to fit in a 'fluffy' meeting?  It's ok.  I completely understand the pressures teachers have to 'teach the curriculum'.  However, the Monday morning meeting only takes about 10 -15 minutes tops and is valuable for many academically-charged reasons.  Here are a quick five!
1)  It gives children an appropriate to time to share fun things, rather than during instruction!
2)  It helps develop oral language and listening skills.
3)  It helps strengthen peer and teacher relationships.  The more you know, the easier it is to motivate!
4)  It offers a safe forum to help model and practice problem-solving strategies.
5)  It broadens children's vocabulary and offers teachable moments.  For example:  You went snorkeling?  Describe what the word snorkeling means to the class.  You visited Washington D.C.?  Let's see where that is on our map!
Most importantly, Monday morning meetings give kids (and teachers) something to look forward to when returning to school after a fun weekend.  After all, nobody wants a 'case of the Mondays'.  Happy meeting, everyone!  🙂