It's Monday morning and you're actively facilitating small-group reading with a little bunch of your students.  You peer up from your spot behind the kidney table and smile.  Everyone is on task with their Daily Five activities, or so it seems.  Katelyn's pencil is moving, so she must be writing about something worthwhile. Tyler's eyes are in his book, so he must be really engaged in his reading.  But, do you ever wonder if your students are really getting something out of their independent practice?  How do you hold them accountable?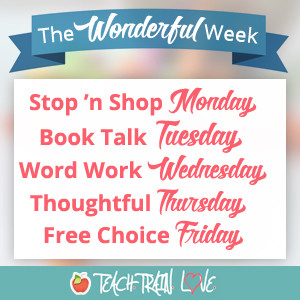 I created 'The Wonderful Week' as a fun, easy-to-manage way for me to check the pulse of my classroom.  After reading Donalyn Miller's The Book Whisperer, I wanted to make sure my students were getting ample opportunities to engage in dialogue about their reading/writing.  This weekly routine ensures that I am checking in with my students daily; no busy filler work required.  Most importantly, it helps promote a love of literacy.  The kids absolutely love it!  Here's how it works…
Stop 'n Shop Monday:  Before reading groups begin, I pop in my Kidz Bop CD and announce that it's 'Stop 'n Shop' time.  As a whole class, the kids grab their book boxes and eagerly begin searching for new reads from the leveled book bins.  This is a celebratory time where children are encouraged to discuss their selections.  I circle around and ask/answer questions about their book choices as well.  This gives me the opportunity to plant vocabulary words, set purposes for reading, learn about interests, etc.
Book Talk Tuesday:  This is the kids' favorite day.  Each week, one reading group is responsible for presenting individual book talks to the class.  Any book they like will do, whether it be from the classroom library, school library, public library, or home.  During independent work, they complete this book talk form  which helps guide them through their presentations.  I  encourage the children to show one illustration/photograph to peek the other students' interests also.   After each presentation, I have the audience show a thumbs-up if it looks like a book they'd like to read.  I also allow them to share any burning comments or questions.  At the end of all the book talks, audience members do a quick 'turn and talk' with their carpet buddies to discuss the book they'd like to read most in the future.
Word Work Wednesday:  So that the kids don't get bored with the same old ways to practice sight words/wordy study features, I set aside this day to do an extra special activity of some kind.  We might play a fun, new game or do something messy (i.e.- shaving cream words or sight word hopscotch w/ chalk).  I am forced to be creative on this day.  🙂
Thoughtful Thursday:  Every Thursday, we come together in a big circle along the edge of the carpet, prepared to share one thing about our reading/writing.  Students can share any thought they have about a book (i.e.-a fact they learned or something funny they read), or tell/read us something they wrote about in their writer's notebooks.  It's a good way to touch base near the end of the week.

Free Choice Friday:  While I believe in having children read 'good fit books' the majority of the time, I also think it's important to let them simply explore their interests.  On 'Free Choice Friday', the kids can select any book regardless of the level.  They can also select any partner during buddy reading time (not just someone from their reading group).  A little freedom can go a long way in preserving students' interests in books.
Annnnd…that's all folks.  I hope you have a wonderful week!  😉