Let's try something. I'm going to utter a few words that are ubiquitously shared countless times a year in school settings across the United States and I'd like you to pay close attention to your instinctual response. Ready? Here goes…
S.M.A.R.T. goals are due. 
Did this statement ignite a sense of passion, motivation, and joy? If so, awesome! If you instead felt the uncontrollable urge to sigh, you're not alone.
Now…don't get me wrong. I like SMART goals. They're so valuable. I'm a big proponent of goal-setting and reflection processes for educators and students alike, and this structure has solidified its place in education as well as numerous other professions for good reason. Setting specific, measurable, achievable, relevant, and time-based goals help us focus our efforts to achieve desired results. 
So, as educators, we use them a lot. We use them for professional development, goal-setting for student progress, school/division-wide plans for continuous improvement, IEPs, etc. We teach students how to set SMART goals, too. And overall, the process strengthens our ability to strategize and execute what's attainable.
However, given all that we have learned/unlearned as educators amid the Covid-19 crisis as well as our shared desire to "reimagine education", let's take a moment to reflect upon how conducive our goal-setting processes are for creating the culture of innovation so sorely needed during this pivotal point in history.
Do we feel true ownership of our SMART goals? Do they foster transformational learning and growth? Do they challenge us in ways that change us? Do they excite, incite, and motivate?
In my opinion, this seemingly endless era of high-stakes standardized testing has caused us to grow far too dependent upon thinking "SMART" to our own detriment at times. We're mapping out entire school years around increasing students' pass rate on the (insert subject + state test here) by 2%.
As educators, we want to change lives. We want to unlock human potential. We want to grow future leaders. So why, then, have we grown accustomed to thinking so…small?
To be clear, SMART goals are not the problem. Our test-centric culture is the culprit. Over time, it's caused us to data-ify everything (quantitatively) and obsess over increments. And as a result, the SMART goals that once centered around self-improvement are mostly being used as a management tool to keep tabs on test scores.
This is not to say wonderful things aren't happening in our schools. They are, despite the testing stress! And we should be striving for continuous improvement on mandated tests. It's our reality (for now).
However, let's also invite educators and students to step outside of this accountability box at times. We are limiting our potential if we're only chasing attainable, numbers-based goals that give us just a glimpse of students' subject-specific knowledge. Let's make space for educators and students to think bigger. Much BIGGER!
LET'S SET GOALS THAT MAKE OUR SOULS SING!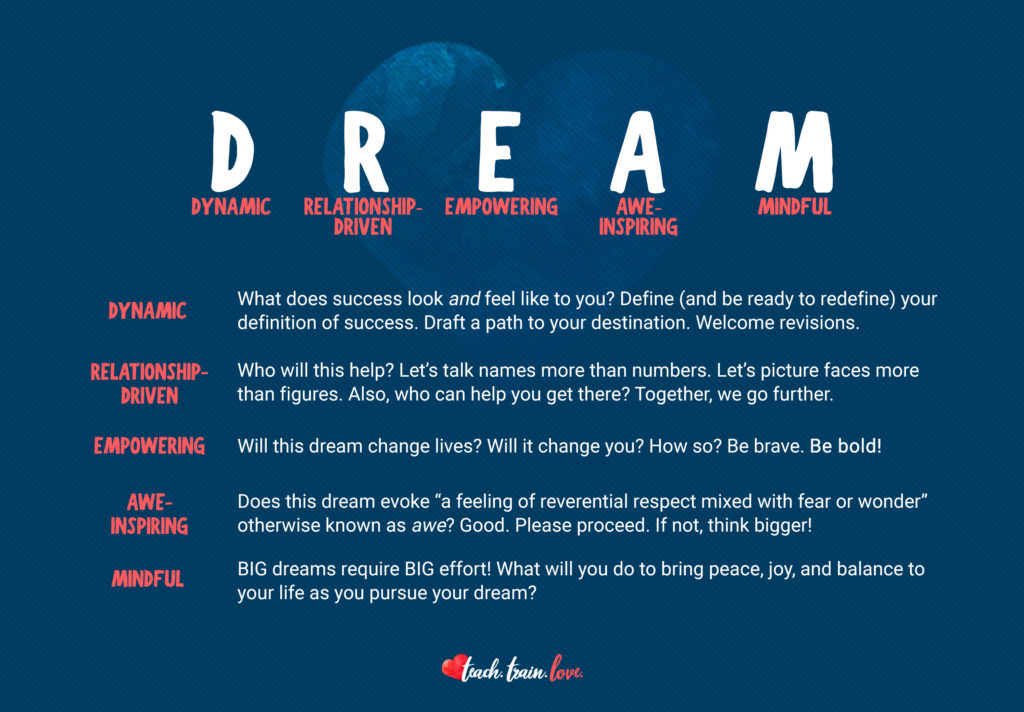 The D.R.E.A.M. (Dynamic, Relationship-Driven, Empowering, Awe-Inspiring, Mindful) framework emboldens us to step outside of our comfort zones to make great and sometimes immeasurable impact. It connects us to our hearts, focusing on people and (flexible) process while prioritizing self-care. Let's normalize discussing dreams. Wouldn't it be amazing to overhear more of these types of conversations echoing throughout our hallways?
So, co-create that ongoing service-learning project with your students to support a cause close to your hearts. Facilitate that innovative, never-been-done professional learning opportunity that will ignite a spark in your colleagues. Pursue that intimidating advanced degree/certification in an intense area of interest. Propose that unorthodox idea to your principal/superintendent to better serve students. Revamp that program/process that so badly needs it. Submit that grant. Publish that website. Write that book.
Do that thing that scares you and excites you, even if the potential impact of that thing cannot be neatly quantified (at least in the traditional sense). Say this DREAM out loud. Then, take one step. And another. Dare your students to DREAM, too!
Many of us have been navigating this pandemic day by day in survival mode. We've lost pieces of ourselves. We've put passion projects on hold. We've stopped dreaming. As life hopefully returns to "normal" and we're able to re-center ourselves personally/professionally with what is hopefully a newfound perspective on what matters most, the time is ripe for innovation.
Should we continue thinking SMART? Absolutely. Should we perhaps reflect more upon how we're using SMART goals and the overall impact they've had on various aspects of education? It can only help. But above all, if we allow ourselves to DREAM and encourage others to do the same, imagine the possibilities…
To be continued…