Has 2020 unexpectedly appointed you to be your child's teacher? Or, does this "unprecedented" (over this word) virtual, hybrid, or even face-to-face school year have you seeking ways to supplement your child's learning?
I can relate on a different couple levels.
As a parent, I was planning to place my three-year-old son into a high-quality early learning program this fall, but COVID-19 thought not. Sending him just isn't in the cards right now since he's part of the "medically at-risk" population. So, I've now become his self-appointed preschool teacher.
And as an educator, I understand the challenges that the various models of schooling amid a pandemic present. You are not alone if your child needs extra enrichment right now.
Caregivers across the globe are assuming new roles and responsibilities in their children's learning, but most don't have backgrounds in early childhood education. So, I'm here to help!
Here's a list of my favorite Amazon purchases made since March to support my son's learning (along with budget-friendly alternatives). These products are best suited for PreK-1 learners. Also, they're teacher tested, Kemp (my son's name) approved!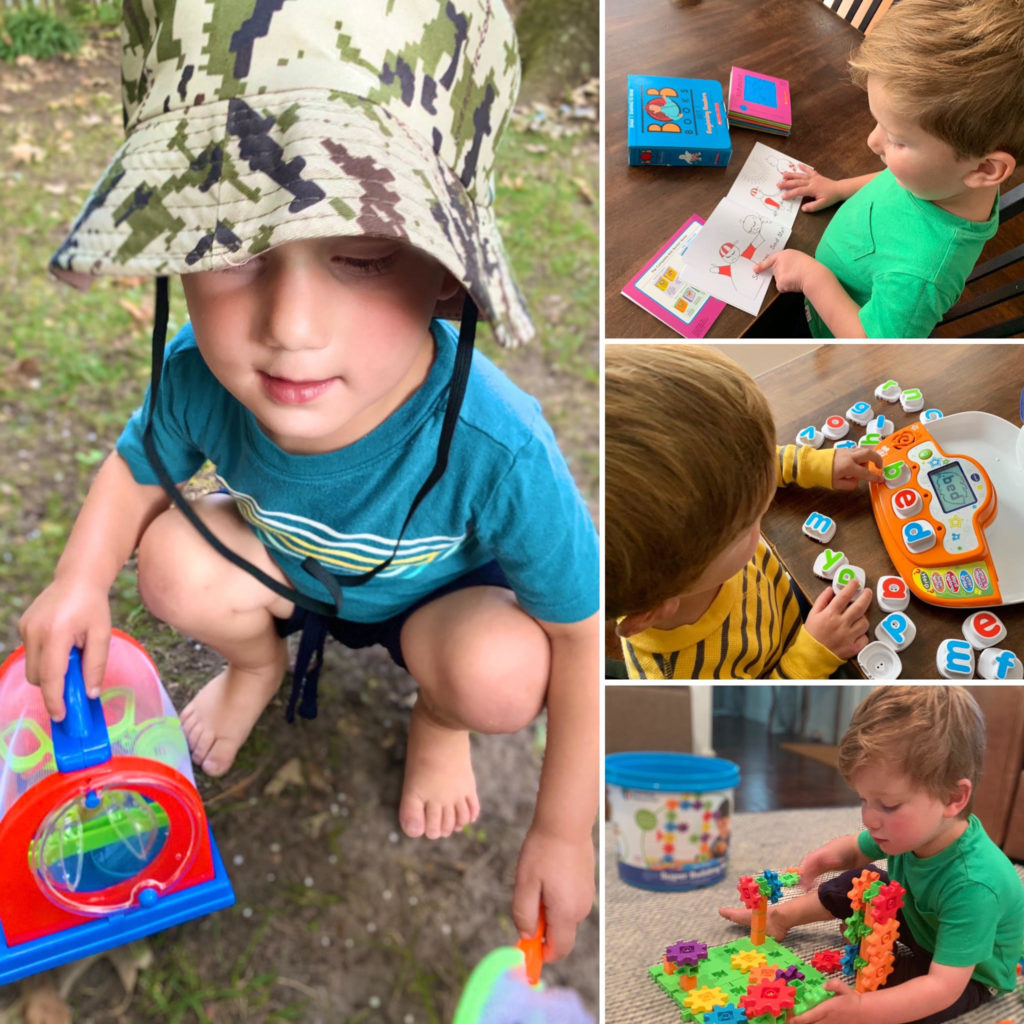 1. Critter Counters: Little learners needs hands-on manipulatives to explore and learn new concepts. These colorful insect counters serve a variety of purposes. Children can use them to count with one-to-one correspondence, sort by attribute, create patterns, compare amounts, solve simple number stories, etc.
Budget-Friendly Alternative: Let your child grapple with the above skills using buttons, cereal, fruit snacks, rocks, leaves, tiny toys, etc.
2. Outdoor Explorer & Bug Catcher Kit: There are endless benefits to outdoor learning! This kit connects nicely to science concepts. For example, children can use the binoculars for birdwatching. They can collect, observe, and describe items in nature such as rocks, plants, insects, etc. Kemp loves catching/viewing cicadas and toads in our backyard using the various tools in this set.
Budget-Friendly Alternative: Get creative! Grab a few props such an old hat or flashlight. Make binoculars out of two toilet paper cardboard tubes attached with a rubber band. Plastic take-out food containers work well for collecting bugs. Just poke holes in it!
3.  Gears! Gears! Gears!: Be sure to tie in some S.T.E.A.M. (science, technology, engineering, arts, and math). These versatile, interconnecting gears allow children to design, construct, reason, problem-solve, etc. Kemp loves creating "constwunction" vehicles with these. There's also a 150-piece Super Set that comes with a handy bucket for easy storage.
Budget-Friendly Alternative: Students can build with pretty much anything such as solo cups, toothpicks and marshmallows, homemade playdoh, etc.
4.  Alphabet Acorns: Here's a fun, memorable way to teach children to match upper and lower-case letters with their corresponding letter sounds. This set reinforces colors, too. My only complaint is the purple letters printed on the brown acorns are a little hard to see, but it's certainly not a deal breaker. Kemp loves matching up the objects with the letters. Opening/closing them is good for his fine motor skills, too.
Budget-Friendly Alternative: Write each letter of the alphabet on separate note cards or scraps of paper. Then, have your child go on a hunt for items in the house or yard that start with the same letter. 
5. Butterfly Garden:  Watch the full metamorphosis of a caterpillar into a butterfly! This was AWESOME and so easy to do. The caterpillars pretty much do all the work! Our whole family enjoyed observing them as they transformed. We look forward to trying their ladybug kit next.
Budget-Friendly Alternative: I'm not going to lie. This is HARD to replicate. Believe me, we tried! We found caterpillars in our backyard and took care of them for a loooong time awaiting change, but nothing happened. Maybe you'll catch one at the right time and get lucky, though!
6.  Lil' Speller Phonics Station: This set contains four games that reinforce letter names/sounds. I'm a fan of the word explorer activity, in particular, as it really helps Kemp segment sounds. When he spells a consonant-vowel-consonant (CVC) word correctly, the word comes to life as an animation. Not to brag, but his favorite word to spell is "Mom." 🙂
Budget-Friendly Alternative: It's an oldie but goodie. Check out the literacy activities on Starfall.com.
7.  Let's Cut Paper Workbook: I tend to avoid workbooks, but this one is wonderful for helping children learn scissor cutting skills. It includes fun, colorful pictures of various animals and objects as well as lines embedded within each picture for students to cut. On the cat page, for example, students must snip the whiskers. I also purchased these plastic-bladed safety scissors. They cut well and giving directions is easier because they're bi-colored. I'm always reminding Kemp to hold them upright by saying, "Your thumb in the orange ring stays on top."
Budget-Friendly Alternative: Draw straight lines, curves, zig zags, and shapes on paper and have students practice cutting along the lines. Old magazines or newspapers are fun to cut up, too.
8. Wooden Stamp Set ABCs 123s:  These rubber stamps with wooden handles include letters, numbers, and more! They're great for reinforcing literacy and math concepts while cultivating fine motor skills. The grip required to use these stamps has transitioned my son nicely into a pencil grip. Kemp loves these animal stamps, too!
Budget-Friendly Alternative: Did you know that you can make stamps out of old wine corks? See how here. Drink more. Spend less! 🙂 
9.  Safari Buddies Hand Puppets:  Hand puppets help children develop their communication and social skills while stimulating their imaginations via role-play. These puppets are soft, brightly patterned, and easy for little hands to maneuver.
Budget-Friendly Alternative: Make some DIY puppets using socks, paper bags, popsicle sticks, etc. Go the extra mile and turn a big box with extra cloth you have around the house into a puppet theater! 
10.  Bob Books for Beginning Readers:  These phonics readers are simplistic, comprising mostly of CVC words such as "mat." They're short and silly. The plot lines aren't all that rich, but we want kids in the early stages of reading more focused on applying the phonics skills they're learning or "decoding." You can order all five sets that increase in complexity here or the entire collection featuring additional skills like rhyming and sight word recognition here.
Budget-Friendly Alternative:  Hit the public library. Most carry Bob Books or at least other books for beginning readers. We've become regular users of our local library's drive-up window service.
I hope these resources and budget-friendly ideas offer some inspiration for at-home learning! You don't need a lot of fancy things to engage your child's mind. And learning is everywhere! In fact, I integrate the majority of the preschool curriculum while we're out and about at parks, farms, the beach, etc. But I will say, it's nice when a package arrives on our doorstep now and again that stimulates his mind. I put his name on all packages that are for him, and he's only allowed to open them once he identifies where his name is on it. I'm always using teacher tricks on this kid. 🙂
Anyhow, if you purchase or try any of these activities out, let me know how it goes. We can compare notes!
Note: I earn from qualifying purchases as an Amazon Associate. This helps me keep up with the costs of the site so that I can continue providing free content to readers. I only recommend products/services if they're truly a reflection of my knowledge, experiences, and beliefs as an educator.